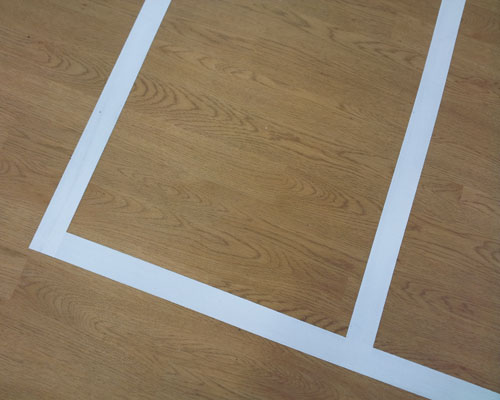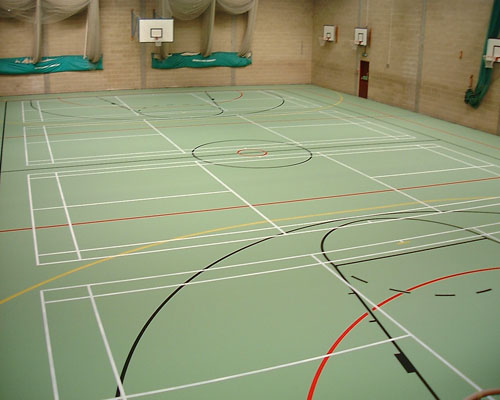 TPS are specialists in
Court marking vinyl sports hall floors
Court marking vinyl gymnasium floors
Court marking vinyl hall floors
We apply court marking and line marking for all your sports requirements on vinyl floors. We can mark all courts you require as part of your floor refurbish or we can apply court markings to new vinyl floors.
We apply court markings and line markings for Badminton, Basketball, Cricket, Fitness test/Bleep test lines, Five a side football, Futsal, Hockey, Netball, Tennis, Volleyball and other sports where required.
It is important to ensure the vinyl surface is properly prepared to ensure the court markings adhere properly and ensure all line markings are durable. With vinyl floors it is essential to use a court marking paint compatible with the flexible surface already on the floor and one which minimises bleed for example on wood effect vinyl floors.
We use special court marking equipment and templates to ensure all court markings are to the current regulations and within line marking tolerances.
The benefits of choosing TPS
Surfaces properly prepared prior to court marking
Special line marking equipment for precision lines and minimal bleed
The correct court marking paint compatible with the underlying surface
Experienced staff with years of knowledge in applying court markings
Fast and efficient service to minimize down time
For a quote on court marking your sports floor please contact us.
Court Marking for Vinyl Sports Hall Floors
Court marking for vinyl sports hall floors is a specialist job best done by professionals who are experts in using the materials required for the perfect finish. Court marking is a specialist field as it requires specific top quality equipment and tools for the job as well as the correct paint, sealant and knowledge. Sports hall floors must be hardwearing, durable but also look good.
Vinyl Sports Hall Floors – Meticulous Attention to Detail
As a specialist flooring company we at TPS pride ourselves in being able to offer a cost-effective and reliable service to you. We've been renovating school sports hall floors for the past decade and feel proud of the fact that children all over the country are enjoying playing games on our specialist surfaces. Indoor team games like football, volleyball and basketball require a surface that is safe, free of trips hazards and clearly marked out with the official lines for the sport. Inevitably with multi-use sports halls the lines for court markings will criss-cross each other, so expert knowledge of the official standards, measurements and materials needed for a great floor are essential.
Sports Floors that Sparkle – Specialist Court Marking
TPS Company is a specialist in court markings for wood, Granwood and vinyl sports hall floors. Our unique combination of a fast and friendly service will help you get the pristine sports hall floor you desire. We are dedicated to providing top quality service and invest time and expertise into renovating your sports hall flooring so that it sparkles like new when a new school term begins. Head teachers will be proud to invite a new intake of students into their school sports hall if you floor is brilliant clean, sanded and re-sealed. Re-adding the court markings is a job for the pros requiring concentration and attention to detail and we're proud to say that we are the best. If you need your vinyl sports hall floor renovated too, we can offer that service too.
TPS Company – Specialist Court Marking
TPS Company is a specialist in court markings for wood, Granwood and vinyl sports hall floors. The TPS team are available to renovate your sports hall floors in evenings, weekends and even overnight if so required. Contact us now for information or a quote.