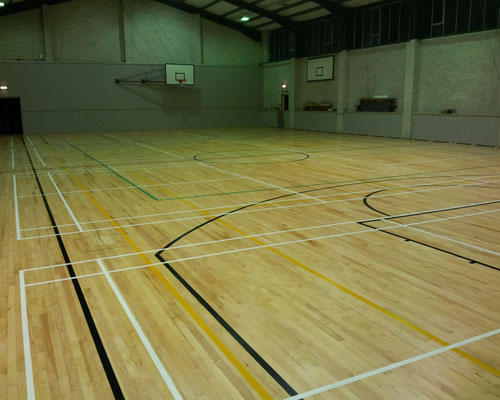 TPS are specialists in
Court marking sports hall floors
Court marking gymnasium floors
Court marking squash court floors
Court marking village hall floors
We apply court marking and line marking for all your sports requirements. We can mark all courts you require as part of your floor refurbish or sand and seal or we can apply court markings to new sport floors.
We apply court markings and line markings for Badminton, Basketball, Cricket, Fitness test/Bleep test lines, Five a side football, Futsal, Hockey, Netball, Tennis, Volleyball and other sports where required.
It is important to ensure the surface is properly prepared to ensure the court markings adhere properly and ensure all line markings are durable. We recommend all new line markings are sealed over to ensure the court markings last as long as possible – so long as the seal is overcoated when worn the court markings will remain in first class condition.
We use special court marking equipment and templates to ensure all court markings are to the current regulations and within line marking tolerances.
The benefits of choosing TPS
Surfaces properly prepared prior to court marking
Special line marking equipment for precision lines and minimal bleed
The correct court marking paint compatible with the underlying surface
Experienced staff with years of knowledge in applying court markings
Fast and efficient service to minimize down time
For a quote on court marking your sports floor please contact us.
Court Marking Specialists
TPS Company is your first choice for court marking specialists and floor restoration.
When it comes to indoor sports areas, you need to know that you're using a company you can trust. Failure to treat the specialist flooring in sports halls properly, or to use the right court markings, can render your halls useless. As most sports halls are used by schools, leisure centres and gyms, this really isn't an option. That's why you need to choose flooring and court marking specialists like TPS Company.
What Makes us Court Marking Specialists?
Marking indoor courts is a completely different skill set to marking outdoor pitches. For indoor spaces, markings have to be laid carefully, without damaging the flooring itself, and using materials that are hardwearing so that they don't rub off the floor after just a few lessons or matches. In addition, sports court marking specialists need to be able to mark lines for several different sports on the same floor, such as basketball, volleyball and badminton. This requires precision, time and care, which is why you should always choose experienced markers. At TPS Company, we have years of experience in refurbishing sports hall flooring and we are experts in our field. That means we know exactly how your flooring should be treated when it comes to court marking, and it means we have the equipment and knowledge to do a professional job.
Using Court Marking Specialists
It may be tempting to try marking the courts yourself, or to get your local contractor to do it. We would always recommend that you use a court marking specialist to avoid having to pay out for the job to be done again in a short space of time. Using the wrong materials or not paying attention to laying down the markings carefully could not only result in the markings having a short life, but could also damage your flooring, which may be expensive to repair. Court marking specialists like TPS Company will do a thorough job with the right materials, leaving your sports hall looking great and giving you the longer-lasting quality you're looking for.
Book Court Marking Specialists Today
If your sports hall is in need of new markings, or if you are thinking about refurbishing the flooring, contact us to find out how we can help you. We will answer any questions you have and give you an estimate for any work you need, whether it's court marking specialists or flooring expertise.