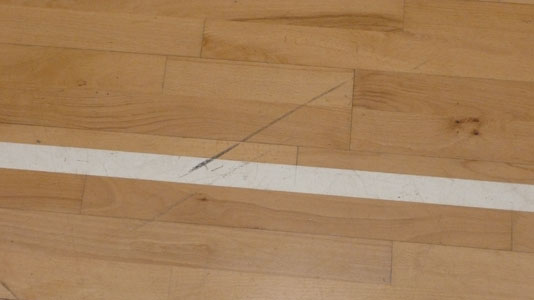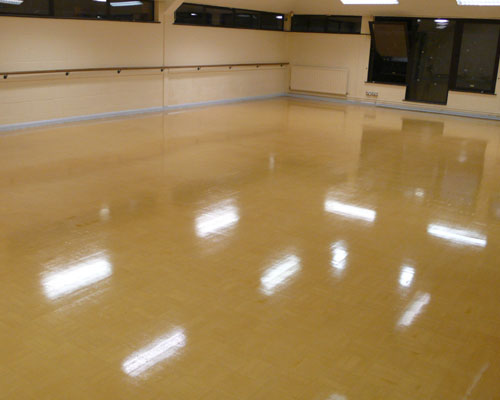 TPS specialize in maintaining all wood, Granwood, polyurethane and vinyl sports hall, gymnasium and leisure centre floors.
We clean and scrub and seal sports hall floors
We clean and scrub and seal gymnasium floors
We clean and scrub and seal general purpose floors
We clean sports hall floors and gymnasium floors to remove marks and grease and restore grip. We also lightly sand the surface and apply one or two coats of seal to maintain your sports floor and restore the surface to as new condition with good grip. If a sports hall or gymnasium floor is properly maintained by regular cleaning and re-sealing it can be kept in as new condition. Sports floors need regular cleaning to remove dirt which wears the surface. Sports floors and gymnasium floors need to be maintained and re-sealed periodically to restore grip and keep them looking in good condition.
Regular maintenance of sports hall and gymnasium floors can save money – normally court markings will be applied before a final coat of seal and where the sports floor has worn there is the risk that the court markings will start to wear too. It is more cost effective to have the required sports floor maintenance on a regular basis and seal the floor before the court markings have worn to save having to have a costly full sand and seal and new line markings.
The benefits of choosing TPS
Knowing when to just clean or when to seal your sports floor to save long term costs
Specialist cleaning and buffing equipment to minimize damage to worn floors but ensure sufficient abrasion to key the new layer
For a quote on cleaning and sealing your sports floor please contact us.
Floors for Indoor Sports – Give Them a Long Life
In order to give floors for indoor sports a long service life, it is important to keep them clean from dirt and grit - so regular cleaning and maintenance is very important. Floors for indoor sports need to cleaned regularly, and every day if they facilitate heavy usage all day long. Shoes with black soles should be avoided as they can leave dark friction marks, and shoes that have been worn outdoors should not be used on floors for indoor sports.
These are some general rules that can help to maintain the service life of floors for indoor sports halls, but like most public buildings, it can be difficult and to monitor such issues with so many different athletes coming in and out.
Floors for Indoor Sports Need Ventilation
Ventilation is crucial for any sports establishment that has a floor space over 250 m², as indoor climate can greatly affect the service life of a floor. For indoor sports, floors need to be durable, safe and clean, but this requires maintenance measures and regular cleaning to be applied to the floors.
For indoor sports, there is variation in humidity and sufficient air circulation is required to avoid damage and movements in the construction of floors.
Cleaning Floors for Indoor Sports
Floors for indoor sports halls must be cleaned. This needs to be done on a regular basis to maintain the functionality of sports hall floors. For indoor sports, floors get a lot of contact so there is often a high amount of wear and tear. To increase the service life of floors for indoor sports halls, there are various cleaning methods:
• Floors for indoor sports halls can be cleaned daily by dry mopping, vacuum-cleaning and, if necessary, damp mopping with a firmly wrung-out cleaning cloth.
• For more thorough cleaning, a combination machine can be used, but cleaners must be careful not to use too much water as this can damage certain types of floors for indoor sports halls.
• For friction marks and stains, cleaners much ensure that they use a neutral detergent and all instructions must be carefully followed to avoid damage to floors.
For indoor sports hall flooring that have difficult stains, methylated spirits or undiluted detergent can be used. But when possible, dry cleaning is recommended.
Floors for Indoor Sports – Floors You Can Trust
Because there is such a high level of contact on floors for indoor sports halls, it is important to have floors sealed and maintained.
If you need maintenance in floors for indoor sports, choose a service that is second to none. Choose professional and proven company, TPS Company Ltd for all your flooring needs.
TPS can provide a unique sanding and sealing service for wood and Granwood floors for sports halls, pubs, clubs and other venues. They use only the highest quality dust-free sanding equipment and ensure the a professional service from start to finish.
Trust in TPS – contact us now for further information.