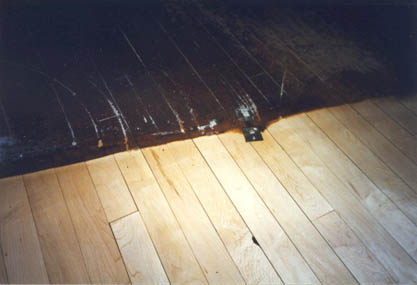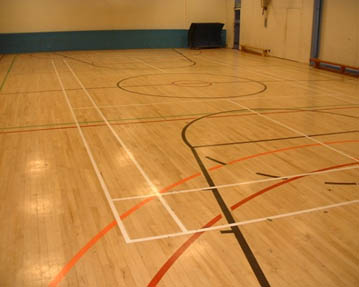 TPS are specialists in
Sanding and sealing gymnasium floors

Refurbishing gymnasium floors

Repairing gymnasium floors

Court marking gymnasium floors
Sanding and sealing your gymnasium floor as part of a full refurbish can make your gymnasium floor look as good as new but at a fraction of the cost, and with less waste of natural resources. In most cases there will be an excellent quality timber gymnasium floor which can be refurbished by sanding and sealing.
Many old wood gymnasium floors have not been sanded and sealed or refurbished for many years and have either a very worn seal (or no seal at all) resulting in the wood wearing and getting ingrained dirt and turning a dirty black colour. Or some gymnasium floors are sealed but not sanded so they have had several coats of oil based seal applied over the years which have "yellowed" with sunlight giving a dirty brown appearance. As more coats of seal are applied some areas can delaminate leaving sharp edges. The results are your gymnasium floor may be lacking in grip, beginning to splinter or suffering damage to the structure, and looking poor.
We sand and seal wood gymnasium floors to provide an excellent surface with good grip and an as new look (provided there are no deep indentations which cannot be sanded out). We sand all gymnasium floors with belt sanders (not drum sanders) to give a high quality smooth surface and finish with buffers. We have specialist extraction systems to leave minimal dust for a cleaner area and smoother end result and to eliminate time spent cleaning after. We seal gymnasium floors using seals that have been tested to exceed the requirements of BS7044 for providing a surface with the required grip.
The benefits of choosing TPS
A smooth surface sanded with the best quality sanding machines

Minimum take off to preserve the future life of the floor

Experienced staff with years of knowledge in how to sand different types of floor and different timber types

Edges fully blended in to the main area

The "right" seal for your requirements whether for high grip or excellent wear characteristics

Minimal dust created so minimal cleaning required

Fast and efficient service to minimize down time
For a quote on sanding and sealing your gymnasium floor please contact us.
Sanding and Sealing of Wood Floors – Turn to the Specialists
Sanding and sealing of wood floors requires skill. The refurbishment of wood floors should be undertaken by experienced sanding and sealing operators.
Sanding and sealing of wood floors is a skilled task that requires the use of specialist equipment and skilled operators to achieve best results from the sanding and sealing of wood floors. When TPS undertake the sanding and sealing of wood floors care is taken not only with the workmanship involved but also the choice of finishes applied to the finished work. When sanding and sealing a wooden sports hall floor consideration must also be given to the slip resistance of the finish.
It is important that sport hall floor finishes comply with BS 7044 for slip resistance, traction and abrasion in order to comply with safe use of the sports hall, especially with the playing of high-impact, fast sports such as netball, basketball, badminton and indoor football.
Refurbishment of Wood Floors for High Traffic Areas
When sanding and sealing wood floors in commercial premises emphasis is often placed on the durability of finishing product because of high traffic areas and the damage sustained by high heel shoes in such high traffic areas. Naturally, slip resistance and safety is also a matter for consideration, especially in an age of increased litigation. When TPS carry out sanding and sealing of wood floors in any type of environment we can offer a range of finishes with performance characteristics to suit any particular need. We promote the use of TPS Heavy Duty Polyurethane Seal, which is accredited to BS 7044 for slip resistance, traction and abrasion, for use on wood and Granwood sport hall floors. TPS Seal is also safe to use on wood floors in commercial environments.
Sanding and Sealing of Wood Floors – Use the Professionals
TPS Company can offer you sanding and sealing of wood floors undertaken in a professional manner using state-of-the-art sanding equipment which is fitted with cyclonic dust extraction systems to ensure that all sanding and sealing works are virtually dust free. Wood floors can be sanded and sealed and work can be completed with a minimum of disruption, ensuring that health & safety is of paramount consideration when applying quality finishes which comply with safety regulation and standards.
To find out more please contact us.