TPS are specialists in sanding and sealing sports hall floors and refurbishing floors for all sports halls, gymnasium and village halls. TPS sand and seal wood floors, Granwood floors and polyurethane floors and apply court markings to wood, Granwood, vinyl and polyurethane floors. TPS also paint external court markings on tarmac and block paint tarmac.
TPS specialize in providing a fast and efficient service for large areas in schools, leisure centres and military bases to minimize downtime. We have specialist equipment from wide sanders to special cyclone equipped vacuums to be able to sand quickly yet achieve the best results and with virtually no dust so there is no clear up time.

Sports hall floor refurbishment with less hassle – the latest techniques can improve your sports hall floor refurbishment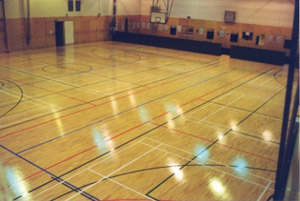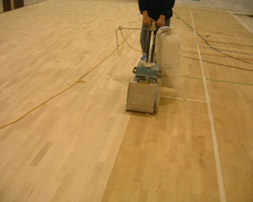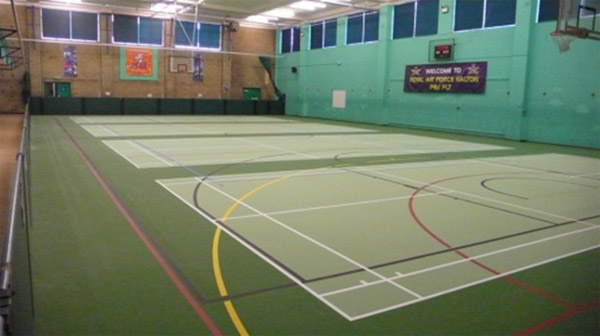 All sports halls and gymnasium floors require specialist maintenance if they are to last as long as possible and provide sufficient grip for sports use. TPS specialize in floor sanding and sealing and have the latest equipment and experienced staff to refurbish your floor to almost new condition in the minimum time. Whether you have a school hall, leisure centre, sports hall, village hall or military P&RTC contact us for a professional sports floor refurbishment.

Planning sports hall floor refurbishment

Sports hall floors take a lot of punishment. Even with restrictions on the type of footwear that can be worn, the floor will receive a fair amount of scratching and other damage. Most sports halls are in daily use, as well as being open in the evenings, so it's no surprise that the flooring is subject to considerable wear and tear. Sports hall floor refurbishment whether sanding and sealing floors, cleaning floors or scrubbing and sealing floors allows you to renew the flooring surface, ready for another round of heavy usage. If you're planning sports hall floor refurbishment, you need to think about:

Timing – how much time can you afford to allocate to the sports hall floor refurbishment? Planning ahead will help you to have the sports hall refurbishment finished on time. Talking to an expert will give you an idea of the lead-time on a project of this nature, allowing you to timetable refurbishment into your calendar.

Experience – you need sports hall floor refurbishment contractors who have the right experience. The wrong team can do further damage to your sports hall, increasing the length of time and the cost needed to put things right. Look for contractors who specialise in sports hall floor refurbishment so that you can be confident they will do a good job.

Professionalism – knowing the best way to sand, seal and finish wood and Granwood sports hall flooring is important. Keeping up to date with the latest advances in the sanding and sealing of wood and Granwood flooring means that contractors can give you the finish you need in as little time as possible. Finding a contractor that knows how to plan sports hall floor refurbishment so that it fits in with client's needs will ensure that your project goes smoothly.
If you own or manage a building that includes a sports hall, you will eventually need to talk to someone about the sports hall floor refurbishment. When the time comes, talk to a specialist about how you can carry out the project with the least hassle.

TPS specialises in the sanding and sealing of wood and Granwood flooring, focusing particularly on sports hall floor refurbishment and other commercial contracts. TPS Company uses its expertise to give your flooring the best possible finish. To find out more, contact us.

Sports flooring & School Flooring - Don't underestimate the importance of floor sanding and maintenance...
Sports flooring and school flooring facilitate heavy usage on a daily basis. From thousands of school children walking around the building, to the hectic footfall of indoor competitive exercise, school flooring and sports flooring need to withstand a great deal of force and friction. Maintaining these floors is absolutely crucial if you want to uphold quality and longevity.

We provide a unique sanding and sealing service for wood and Granwood floors in all kinds of premises, from sports halls and schools, leisure centres, military bases to village halls and community centres. If you are looking for a dependable floor sanding service for sports flooring and school flooring, look no further. We can help you look after your floors so that they preserve complete durability in order to withstand the weight, force and friction of indoor sporting activities and everyday use.

Looking After Your Sports / School Flooring

Here at TPS Company, we offer various refurbishment services to look after your floors. Our full range of works includes:
Full Sand and Re-Seal – only the highest quality equipment is used with the assurance that all work is virtually dust-free, so there is no need for a deep clean on completion.

Scrub/Abrade and Re-Seal – this service offers a cost effective way of keeping sports flooring and school flooring well maintained between full sand and seal programmes.

Court Marking – full re-lining of indoor court markings to a professional standard on wood, Granwood, polyurethane and vinyl and sports flooring.
Top Quality Equipment for Top Quality Sports Floors

TPS Company use only the highest quality dust free sanding equipment, keeping abreast of the latest technological advancements in both work practices and floor finish products. For sports flooring and school flooring refurbishment works, please contact us.