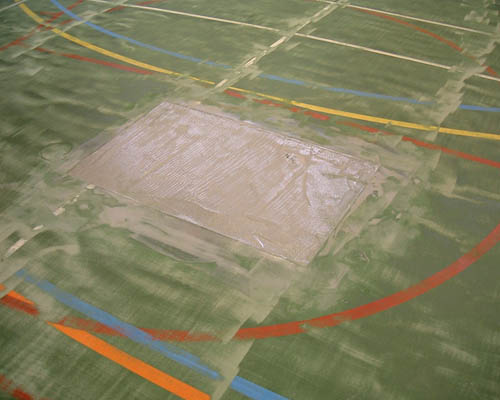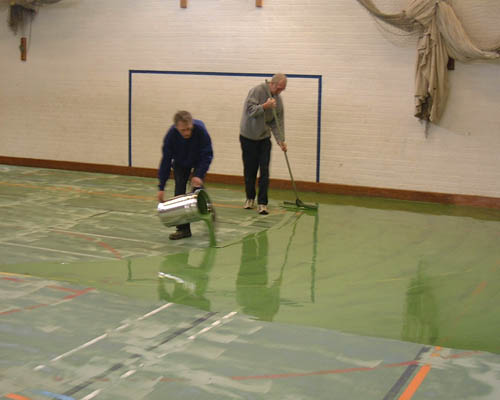 TPS specialize in repairing polyurethane sports hall, gymnasium and leisure centre floors
We repair all polyurethane sports hall floors
We repair all polyurethane gymnasium floors
We repair all polyurethane general purpose floors
Polyurethane floors are very durable but sometimes need repair because the hard wearing pu top coat has been damaged or cut or the top wear coat may be worn in areas. We repair polyurethane sports floors by cutting out the damaged area, replacing the shockpad and laying the flow coat to ensure it blends with the area surrounding the polyurethane repair.
The top coat is then applied to provide the closest colour match and the result is a totally seamless polyurethane sports floor repair.
Where there are several repairs required to your polyurethane sports floor we can repair the areas and then apply a new polyurethane top surface to the entire floor and replace any line markings converting an old damaged floor to effectively a brand new polyurethane sports floor – this is the real advantage of the polyurethane sports floor and why they are probably more cost effective than other sports floors.
Where existing court markings are outdated for example with the new Basketball court regulations polyurethane floors can be sanded and repainted with all new court markings making the floor look like new again.
The benefits of choosing TPS
Knowing when to fill and when to replace tile
All sanding and line marking equipment to provide a complete repair service for all sports hall and gymnasium polyurethane floors
For a quote on repairing your polyurethane sports floor please contact us.